An evening of music inspired by friends, family, and colleagues opening with Samuel Coleridge-Taylor's Ballade in A minor.
Kalena Bovell takes the podium to lead an evening of music inspired by friends, family, and colleagues opening with Samuel Coleridge-Taylor's Ballade in A minor written while still a student at the Royal College of Music. The piece premiere came after Elgar's introduction of Coleridge-Taylor at the Three Choirs Festival which helped to launch his career.
We are then treated to the Violin Concerto in A minor by Czech composer Antonin Dvorak whose melodic genius shows affection for the folk music of his homeland. We then hear George Walker's beautiful Lyric for Strings, a work inspired by and dedicated to his grandmother. Edward Elgar's Enigma Variations is a true testament to friendship with each movement written for a close friend. Beginning with a love song to his wife and ending with a rousing finale symbolic of the beloved composer.
Samuel Coleridge-Taylor: Ballade in A minor
Antonin Dvorak: Violin Concerto in A minor
George Walker: Lyric for Strings
Edward Elgar: Enigma Variations
Purchase your General Admission tickets today. SSO Flex-Passes available for use at this event. Please contact the Salisbury Symphony to reserve your seats.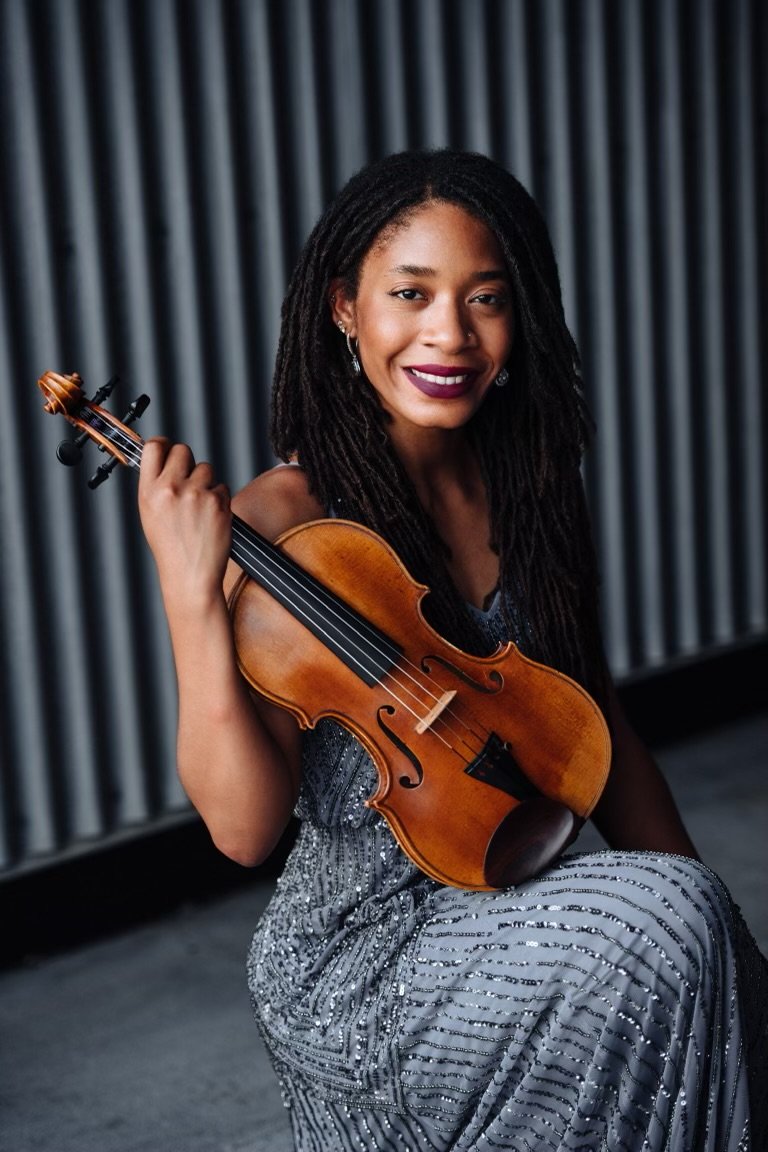 Featuring
Njioma Grevious
Violinist
Described as "superb" by the Chicago Classical Review, violinist Njioma Chinyere Grevious is an emerging and versatile solo, chamber and orchestral musician and performer. She is a graduate of The Juilliard School and a winner of its John Erskine Prize for scholastic and artistic achievement. In 2023, Njioma won both the Robert F. Smith First Prize and the Audience Choice awards in the Senior Division of the Sphinx Competition and First Prizes for Performance and Interpretation in the 2018 Prix Ravel in Fontainebleau, France.
In 2022, she was the winner of concerto competitions at the University of Delaware and the Newark Symphony Orchestra. She was also a winner of the Music Academy of the West Keston-Max Fellowship to study and perform in the London Symphony Orchestra in November 2022.
Learn more at www.njiomagrevious.com
Meet the Conductor Candidate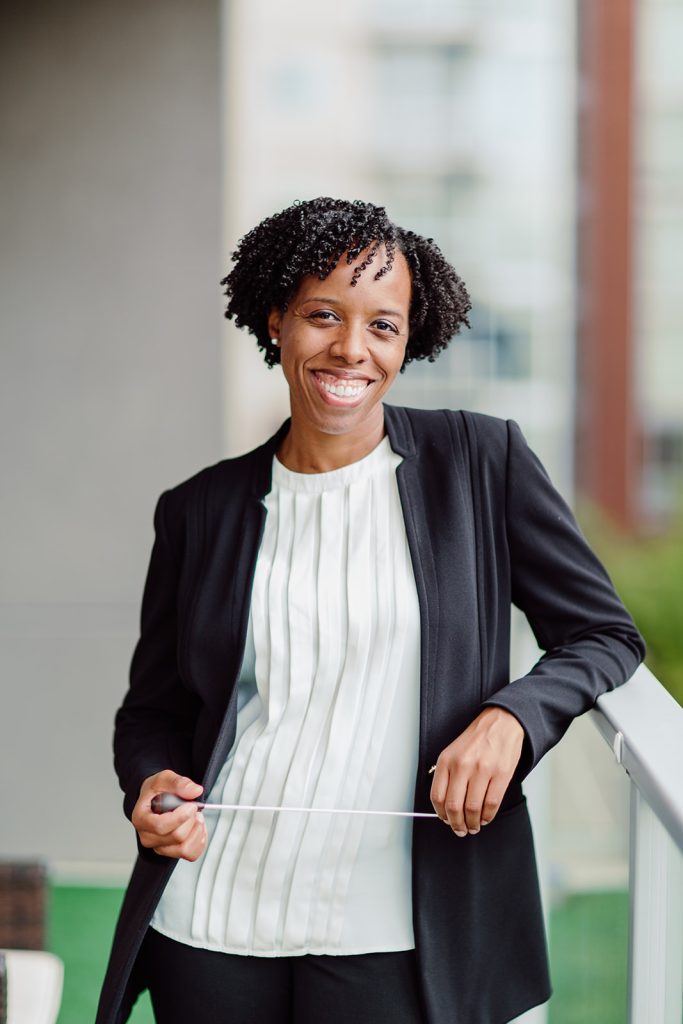 Meet the Cadidate
Community Gathering Hosted by Trinity Oaks
728 Klumac Road - Salisbury, NC
Time: 2:00 to 3:00pm
Date: April 23, 2024
With her distinctive voice as maestra, speaker, and poet, critics praise Panamanian-American conductor Kalena Bovell as "one of the brightest stars in classical music." (Channel 3 News, Connecticut).
Her twin tenets of musical excellence and community access have left an imprint on orchestras across North America, including recognition as a 2022-2024 Awardee of the Taki Alsop Conducting Fellowship. Bovell, highly in demand as a guest conductor, continues to implement these values as Assistant Conductor to the Memphis Symphony Orchestra and Conductor of the Memphis Youth Symphony.
Bovell's 2022-2023 season features a bevy of exciting conducting debuts, including her opera debut in Volcano Theatre, where she will lead a reimagined production of Scott Joplin's Treemonisha. September 2022 sees Bovell return to the international stage with the Musikkollegium Winterthur–marking her first performance in Switzerland. To open 2023, Bovell makes her Sphinx debut at SphinxConnect 2023: Impact, followed by debuts with the Albany Symphony and Louisiana Philharmonic. Residencies this season include UC Redlands in California as well as the Harmony Project in Los Angeles in February 2023.
In recent years, Bovell has led numerous marquee performances, including at the BBC Proms with the Chineke! Orchestra, the Louisville Orchestra, and the at Kennedy Center's "Reframing the Narrative" with the Collage Dance Collective in Kevin Thomas's Firebird. Reviewing her BBC performance, ArtsDesk stated simply: "Never let her go." She is also quickly becoming a mainstay on the North American festival circuit, conducting at the Summer Orchestra Institute at New England Conservatory, and the Sewanee Summer Music Festival in 2022. Outside conducting, Bovell's poem, "Tethered Voices," also premiered the same year, set to music by James Lees III and performed by the University of Michigan Symphony Orchestra. She additionally made speaking appearances at Sewanee Winterfest and the SphinxConnect 2021: UNITY Conference.
After making her professional debut as the Chicago Sinfonietta's Assistant Conductor in 2015, Bovell held cover conducting roles with the St. Louis Symphony and Hartford Symphony. However, her 2018-2019 appointment as the Music Director at the Civic Orchestra of New Haven would serve as a first marker of Bovell's potential. There, she elevated Civic Orchestra's musicality and the diversity of its repertoire, all while increasing the size of its roster. Further, she made her mark on the region through numerous guest conducting appearances, including Hartford Opera Theater, leading two short operas in its annual "New in November" festival. Prior to her current appointment with the Memphis Symphony, Bovell debuted as a guest conductor in a memorable 2019 performance with Hamilton star Leslie Odom Jr. Her relationship with the MSO dates back to 2016, when she served as Assistant Conductor for former Music Director Mei-Ann Chen's farewell concerts.
Much of Bovell's artistic philosophy stems from her relatively delayed entry to the classical music world. Though Kalena showed promise as a violinist, a lack of musical resources meant her first private lesson would come at 18. Her experience far behind the typical conservatory-trained musician, Kalena found a new home as a conductor, and worked six jobs to fund the many plane tickets, workshops, and conducting lessons required to excel. Hoping to inspire younger musicians, Bovell shares this unique journey to professional conducting as often as possible. Among those who have heard her story are the BBC, the League of American Orchestras, Tennessee Music Education Association, and the III International Women Conductor's Symposium, among many other radio, webinar, and podcast appearances.
A Los Angeles native, Bovell received a Master of Music and Graduate Professional Diploma in Orchestral Conducting from The Hartt School, where she studied with Edward Cumming. She holds a Bachelor of Music Education from the College of the Performing Arts at Chapman University, which honored her as a Distinguished Alumni in 2021.
In addition to conducting, Bovell is a published author, releasing her first poetry book titled "Dear Soul..." in 2009. She has increasingly interwoven her poetry with her music career, collaborating with Rob McClure's Conductor Cam series in 2020 to perform her poem "Tethered Voices".
Kalena makes her home in Memphis, Tennessee, where she enjoys cooking, writing poetry, weight training, and trying new pizza places.
Join us for an enlightening pre-concert talk in the elegant Crystal Peeler Lounge before the concert--at 6:45pm!
Dive deep into the evening's repertoire as our conductor candidate offers unique insights into the music that will be performed. Discover fascinating details about our guest soloists and get acquainted with the conductor helming the night's performance.
Whether you're a seasoned concertgoer or new to the symphony, these talks are a perfect way to enhance your concert experience. By understanding the background, stories, and intricacies behind the pieces and personalities, you'll listen with a richer perspective.
Gather, learn, and prepare for an unforgettable evening of music. Don't miss out on this opportunity to connect with the heart and soul of each concert!
See you there!
After the show:
Following the exhilarating sounds of the orchestra, we invite you to the elegant Crystal Peeler Lounge for an exclusive post-concert reception. This is a wonderful opportunity for every music lover to mingle, converse, and share their concert experiences!
Engage in enriching conversations with our talented conductor, the mesmerizing soloists, and the skilled musicians who brought the evening's music to life. Whether you're curious about a particular piece, instrument, or simply want to express your appreciation, this is your chance to connect directly with those behind the performance.
Celebrate the magic of music, discuss your favorite moments, and immerse yourself in the post-concert glow in the company of fellow enthusiasts and the orchestra's stars.
Join us and make your concert night truly memorable!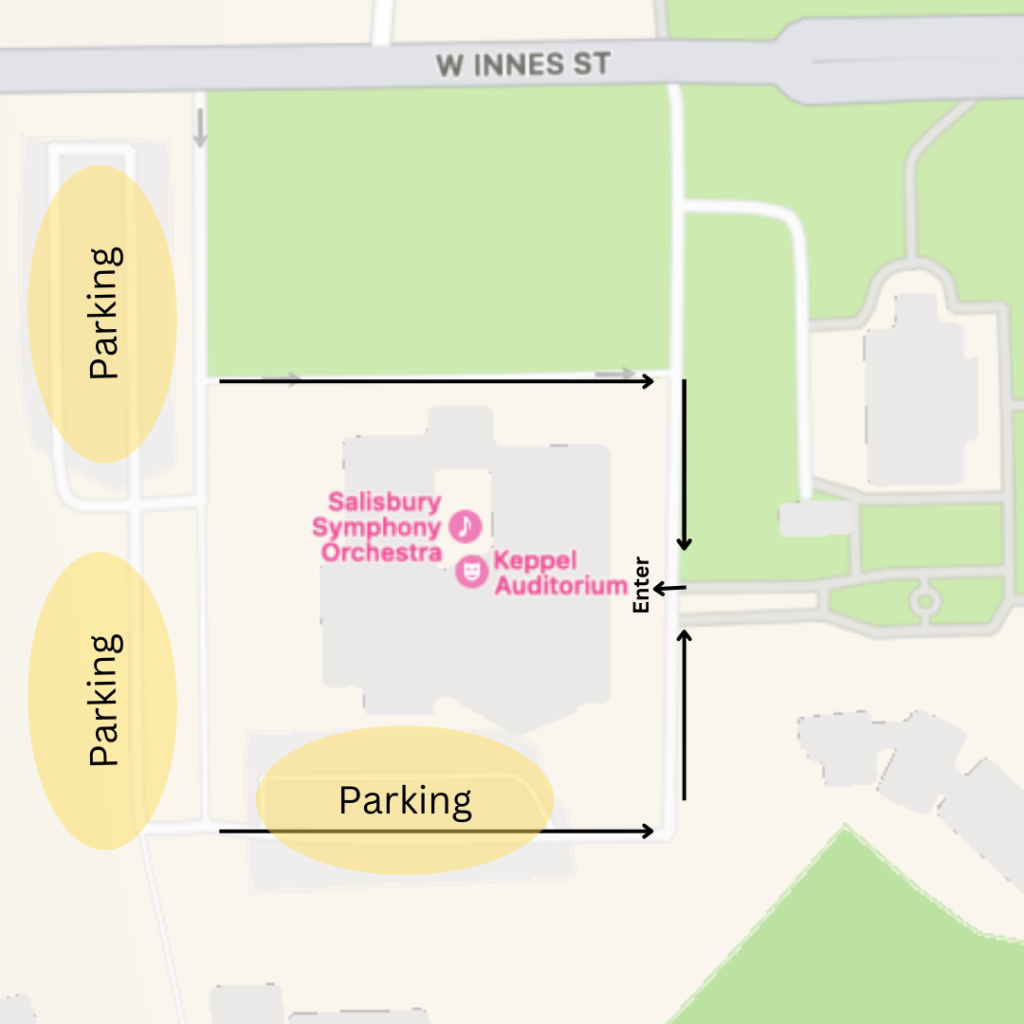 Keppel Auditorium, Catawba College
2300 West Innes Street Salisbury, NC 28144
Directions to Catawba College:
Exit Interstate 85 at Exit 76 for Innes Street. Head west on E Innes Street for approximately 2.6 miles. Catawba College will be on your right at 2300 West Innes Street.
Parking:
Parking is available around the building. Special cones in front of the portico are typically reserved for the differently abled. Please alert a public safety officer to your need upon arriving to have a cone removed. The main entrance and box office to Keppel Auditorium is located on the North Side of the building. The handicap entrance is located on the West side of the building between Crystal Peeler Lounge and Hedrick Theatre. Please note: Tickets are required for entry and are only sold at the North Side entry point.