Spark your imagination as we travel around the world collecting enchanting sounds that have captivated composers and audiences alike for centuries.
Your Salisbury Symphony presents a program that will spark your imagination as we travel around the world collecting enchanting sounds that have captivated composers and audiences alike for centuries.
The concert begins with Piazzolla's groundbreaking Tangazo, and continues with Saint-Saëns' Piano Concerto No.5, a piece inspired by the composer's insatiable love for traveling with guest soloist Lawrence Quinnett. Scheherazade, Rimsky-Korsakov's powerful drama based on the Arabian nights, with solo glorious opportunities from our orchestra will conclude the concert.
Astor Piazzolla: Tangazo
Camille Saint-Saëns: Piano Concerto 5
Nikolai Rimsky-Korsakov: Scheherazade
Purchase your General Admission tickets today. SSO Flex-Passes available for use at this event. Please contact the Salisbury Symphony to reserve your seats.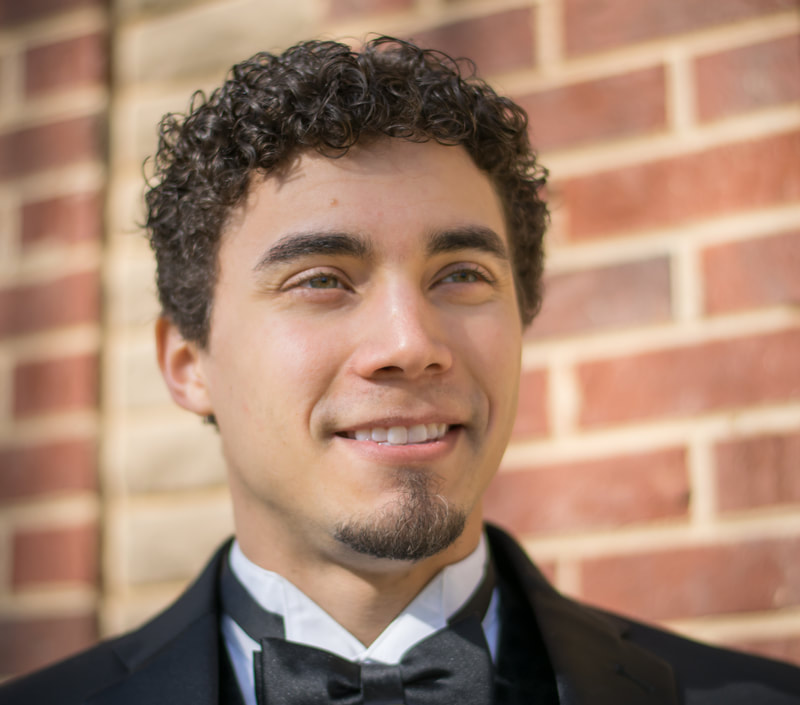 Featuring
Dr. Lawrence Quinnett
Pianist
Lawrence Quinnett is an active concert pianist who has performed recitals, conducted master classes, and adjudicated competitions in the Caribbean, the United Kingdom, and the United States. Quinnett has several competition successes to his credit, including first prize in the 2013 Doctoral Concerto Competition at Florida State University, the 2011 FSU Chapman Competition, the 2008 South Carolina Music Teachers' Association Young Artist Piano Competition, and the 2006 Southeastern College Piano Competition. He has been repeatedly featured as a performing pianist and harpsichordist for Colour of Music Festival events in Pennsylvania, South Carolina, and Texas.
He has also performed Rachmaninoff's Third Piano Concerto, both with the National Repertory Orchestra and the Florida State University Symphony Orchestra. Other notable performances include recitals at the Central Florida Music Teachers' Association, the Montserrat Music Festival in the West Indies, the Music at Mains Series in Jacksonville, the Trinity Artists Series in New Orleans, and the Steinway Piano Galleries of Charlotte and Greensboro, North Carolina. He has played all-Bach recitals at Bach festivals in Louisiana and Wisconsin, and has performed a majority of the Beethoven solo piano sonatas. A supporter of new music, Quinnett has performed in the 2013 New Music Festival and 2012 John Cage Festival at FSU, and participated as both performer and lecturer at the 2013 Ligeti Symposium and Festival, for which he received a unique recognition of excellence.
Meet the Conductor Candidate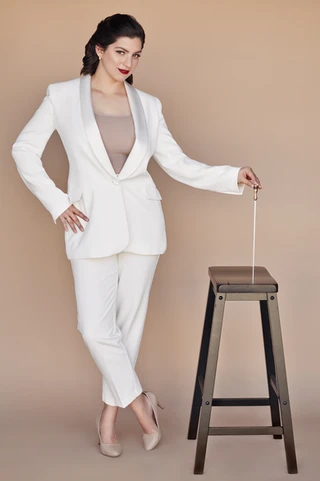 Meet the Cadidate
Community Gathering Hosted by Trinity Oaks
728 Klumac Road - Salisbury, NC
Time: 2:00 to 3:00pm
Date: March 5, 2024
Michelle DiRusso
Conductor
A graceful yet powerful force on the podium, Argentinian-Italian conductor Michelle Di Russo is known for her compelling interpretations, passionate musicality, and championing of contemporary music. Currently serving as Associate Conductor on her second season with North Carolina Symphony, she is a former conducting fellow of Chicago Sinfonietta's Project Inclusion program, The Dallas Opera Hart Institute, as well as a recipient of the Richard S.Weinert award from Concert Artists Guild.
​
Highlights of Di Russo's 22-23 season include guest conducting debuts with Portland Symphony and Vermont Symphony as well as engagements acting as cover conductor for St. Louis Symphony, National Symphony, Minnesota Orchestra, and Arizona Musicfest. The past summer, Di Russo was a Joel Revzen fellow at the Napa Valley Festival where she led the orchestra in two concert cycles and the staging rehearsals of the production of L'elisir d'amore.
​
Di Russo has recently served as Interim Director of Orchestras at Cornell University, Assistant Conductor for the Phoenix Youth Symphony Orchestra and cover conductor for San Diego Symphony, Ballet Arizona, and The Phoenix Symphony. She has also been the recipient of the American Austrian Foundation/Faber Young Conductors Fellowship (selected by members from the Vienna Philharmonic), a Bruno Walter Memorial Foundation Conducting Scholarship at the Cabrillo Music Festival of Contemporary Music, and was a conducting fellow at the Cortona Sessions for New Music in Italy.
​
Past performance highlights include curating a Spanish Holiday Concert experience and a bilingual production of Peter and the Wolf for the North Carolina Symphony; assisting on productions of Le Nozze di Figaro and Die Zauberflöte for Prague Summer Nights Festival in in the Czech Republic; leading the state premiere of Annika Socolofsky's Gaze at the Cabrillo Festival of Contemporary Music; and leading the premiere of Carlos Simon's This Land at Arizona's Gammage Memorial Auditorium's "Beyond the Concert Series."
​
During the pandemic Di Russo co-created Girls Who Conduct, an organization dedicated to bridge the gap between women and men in the conducting field and encourage younger generations of women and non-binary conductors to overcome any obstacles presented due to their gender.
​
Trained as a professional dancer since the age of three, she continued her studies in voice and piano, leading to participations in Argentinian and Disney TV shows. Prior to switching her focus to the podium, she was a cast member of a professional musical theatre company by Cibrian-Mahler while an undergraduate, gaining insight into the ways of a working theatre. This passion for theatre has endured in her work conducting Opera and Musical Theatre.
​
A native of Argentina with Italian roots, Di Russo holds a Doctoral Degree in Orchestral Conducting from Arizona State University and a Master of Music in Orchestral Conducting from the University of Kentucky. She completed her degree in Orchestral Conducting and Music Production of Audiovisual Media from the Pontifical Catholic University of Argentina, where she was awarded an Ad-Hoc Diploma for the highest grade in Orchestral Conducting.
​
She has participated in masterclasses with conductors Cristian Măcelaru, Emmanuel Villaume, Marin Alsop, Carlo Montanaro, and Guillermo Scarabino. Mentors include Mei-Ann Chen, Tito Muñoz, Jeffery Meyer and Carlos Vieu.
Join us for an enlightening pre-concert talk in the elegant Crystal Peeler Lounge before the concert--at 6:45pm!
Dive deep into the evening's repertoire as our conductor candidate offers unique insights into the music that will be performed. Discover fascinating details about our guest soloists and get acquainted with the conductor helming the night's performance.
Whether you're a seasoned concertgoer or new to the symphony, these talks are a perfect way to enhance your concert experience. By understanding the background, stories, and intricacies behind the pieces and personalities, you'll listen with a richer perspective.
Gather, learn, and prepare for an unforgettable evening of music. Don't miss out on this opportunity to connect with the heart and soul of each concert!
See you there!
After the show:
Following the exhilarating sounds of the orchestra, we invite you to the elegant Crystal Peeler Lounge for an exclusive post-concert reception. This is a wonderful opportunity for every music lover to mingle, converse, and share their concert experiences!
Engage in enriching conversations with our talented conductor, the mesmerizing soloists, and the skilled musicians who brought the evening's music to life. Whether you're curious about a particular piece, instrument, or simply want to express your appreciation, this is your chance to connect directly with those behind the performance.
Celebrate the magic of music, discuss your favorite moments, and immerse yourself in the post-concert glow in the company of fellow enthusiasts and the orchestra's stars.
Join us and make your concert night truly memorable!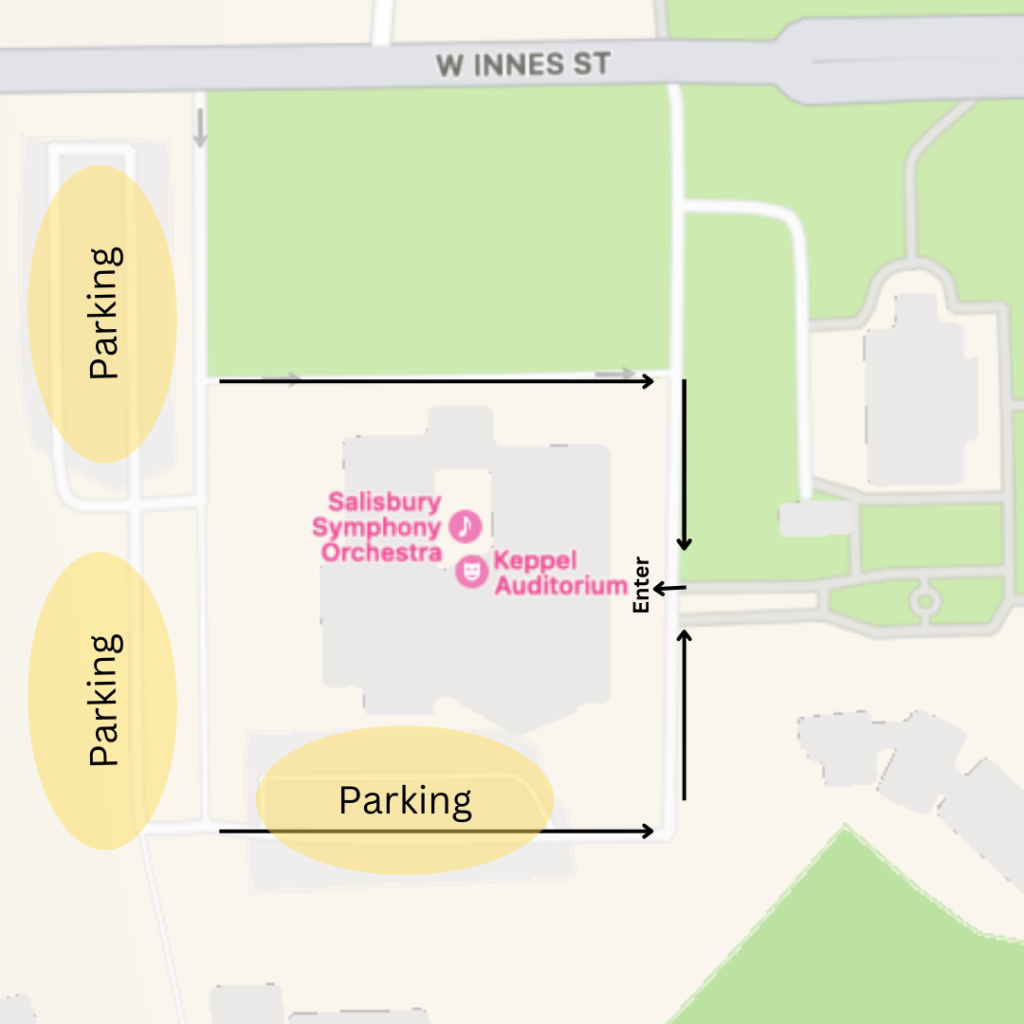 Keppel Auditorium, Catawba College
2300 West Innes Street Salisbury, NC 28144
Directions to Catawba College:
Exit Interstate 85 at Exit 76 for Innes Street. Head west on E Innes Street for approximately 2.6 miles. Catawba College will be on your right at 2300 West Innes Street.
Parking:
Parking is available around the building. Special cones in front of the portico are typically reserved for the differently abled. Please alert a public safety officer to your need upon arriving to have a cone removed. The main entrance and box office to Keppel Auditorium is located on the North Side of the building. The handicap entrance is located on the West side of the building between Crystal Peeler Lounge and Hedrick Theatre. Please note: Tickets are required for entry and are only sold at the North Side entry point.